Gotcha Plus Hybrid Sorghum Sudangrass – 50 lb bag
GOTCHA PLUS is a sorghum-sudangrass hybrid that is 25-30 days later than typical conventional hybrids. This means that growers can delay harvest to increase crop growth, and obtain as much as 25% greater forage yields. Non-GMO
$45.00
Out of stock
Description
GOTCHA PLUS is a sorghum-sudangrass hybrid that is 25-30 days later in maturity than typical conventional hybrids. This means that growers can delay harvest to increase crop growth, and obtain as much as 25% greater forage yields. The delayed maturity affords a wider window for harvest before heading. GOTCHA PLUS is not photoperiod sensitive and can be sown at any daylength. In addition, the delayed maturity of GOTCHA PLUS allows it to have similar yield advantages of photoperiod sensitive varieties while being more economical to plant. Digestibility data from research suggests that GOTCHA PLUS has a higher protein content than other conventional sorghum-sudangrass hybrids. When comparing 'True Digestible Dry Matter', this hybrid produced 20+% more than a commercially available conventional variety check.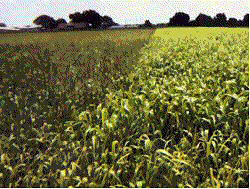 The sorghum-sudangrass hybrids in this Bardwell, Texas field were planted on the same day.  The conventional  variety on the left is already headed out.   This means that the plant has changed from a vegetative state to a reproductive state and has stopped producing forage in order to make seed.  However, Gotcha Plus (right) is still in a vegetative state and still producing forage long after the other variety.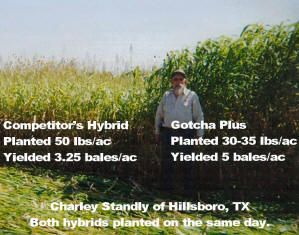 I planted Gotcha Plus March 28, 2004 at 30-35 lbs/acre, and a competitor's hybrid on the same day at 50 lbs/acre. I fertilized in April with 200 lbs/acre of 30-10-10. The Gotcha Plus was cut and baled in late June with a Case IH 8440 round baler (5×5). It produced 5 bales per acre.  The competitor's acreage was cut with the same equipment and  produced 3.25 bales per acre.  With the June rain in 2004, the Gotcha Plus grew 6-8 ft. tall with more foliage than the competitor, but it did not head out.  The stalk size was no bigger than the size of a small index finger.  The competitor's hybrid only grew 4-5 feet tall and with little foliage.  The competitor did head out and the stalk size was about the same, but some may have been bigger.  When both the Gotcha Plus bales and the competitor bales were put out for the cattle, the cattle always went to the Gotcha Plus bales first.  They seemed to prefer the Gotcha Plus bales over the competitor's. Buying a quality hybrid at planting time is a savings at harvest when you plant less per acre, make more volume and cattle consume more hay of better quality.
Charley M. Standly, CMS Farms, Hillsboro, Texas